The 50th & France district is an extraordinary place to live. When working with clients, we aim to help them find their
perfect Edina real estate
. The 50th & France area is where many of our clients want to live, and it's no wonder. Located in northeast Edina, this unique commercial and residential district brings a touch of urban living to a peaceful suburban lifestyle. Packed with premier shopping, dining, and entertainment, the district is a fantastic destination for a day out with the family and a night out for just the two of you. It's even better when you live nearby because you can leave the car at home to take a stroll down to the district to take in everything it has to offer. It's become a central hub of Edina life. 50th & France hosts important annual events while delivering amenities that rival those in the Twin Cities.
That's just the beginning. Here are seven more reasons people love living near 50th & France.
Here's why 50th & France is the place to be
The great events on the plaza
In the heart of the 50th & France district is the plaza. This scenic space hosts some terrific community events and quirky pop-up events to celebrate holidays. Take a stroll down to the plaza on a Saturday night in the summer, and you might spot a few of your neighbors participating in the Outdoor Beginner Dance Class series. Learn how to rumba, tango, or swing before heading to a delicious local hotspot for dinner. There are many fantastic events for children in the plaza, including visits from the Easter Bunny in the spring.


You'll also find great permanent stores near the plaza, including clothing boutiques, homeware stores, and spas. Make sure you check out nearby yarn store
Harriet and Alice
. It's an absolutely charming store where you can pick up supplies for your next fiber art piece. You can join one of their knitting groups to take your skills to the next level.

It caters to clean eating so you can stay healthy
One of the wonderful things about 50th & France is how many options you have for healthy living. Along with fitness studios and spas, the district is home to some of the best healthy food options around. If you are trying to eat more whole foods, 50th & France offers a diverse array of clean-eating cuisine to fuel the body, mind, and soul.


One must-try venue for those looking for healthy, delicious food options is
Crisp & Green
. Offering robust salad and grain bowls, the company takes healthy living beyond its menu by offering fitness events. Bring your yoga mat to one of their outdoor yoga classes in the summer, and you can chow down on your favorite salad afterward.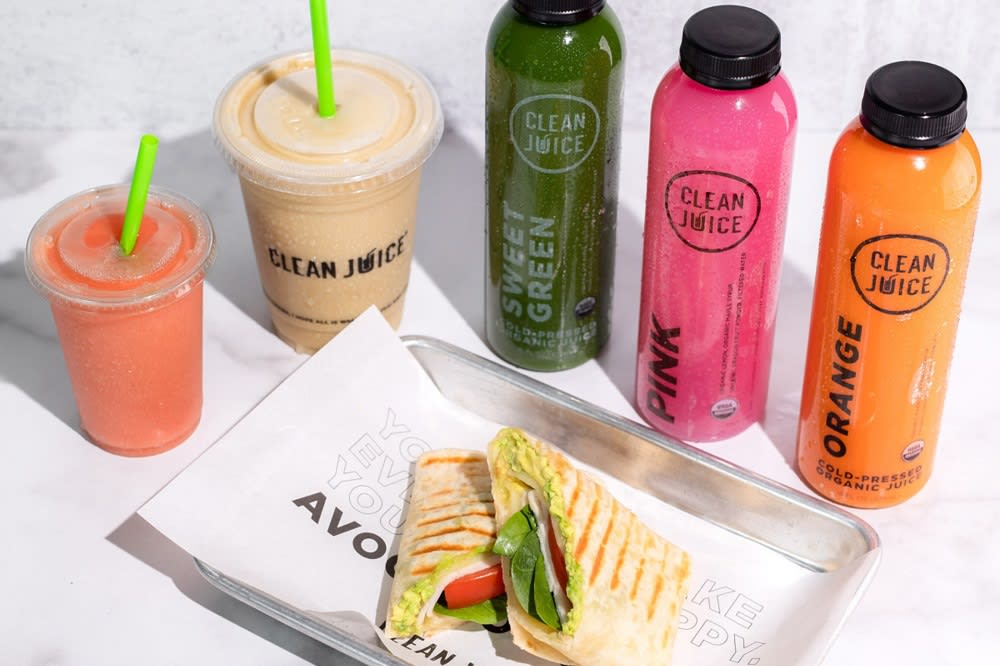 For more healthy food options, head toward Market Street, where you'll find
Clean Juice
. More than just juice, this shop offers sandwiches, wraps, and acai bowls, too. But their juice selection is unrivaled. Choose juices to boost your immune system, give you energy, or help you wake up. They use the highest-quality ingredients, so you get all the nutrients possible in every cup.

You can also indulge when you want to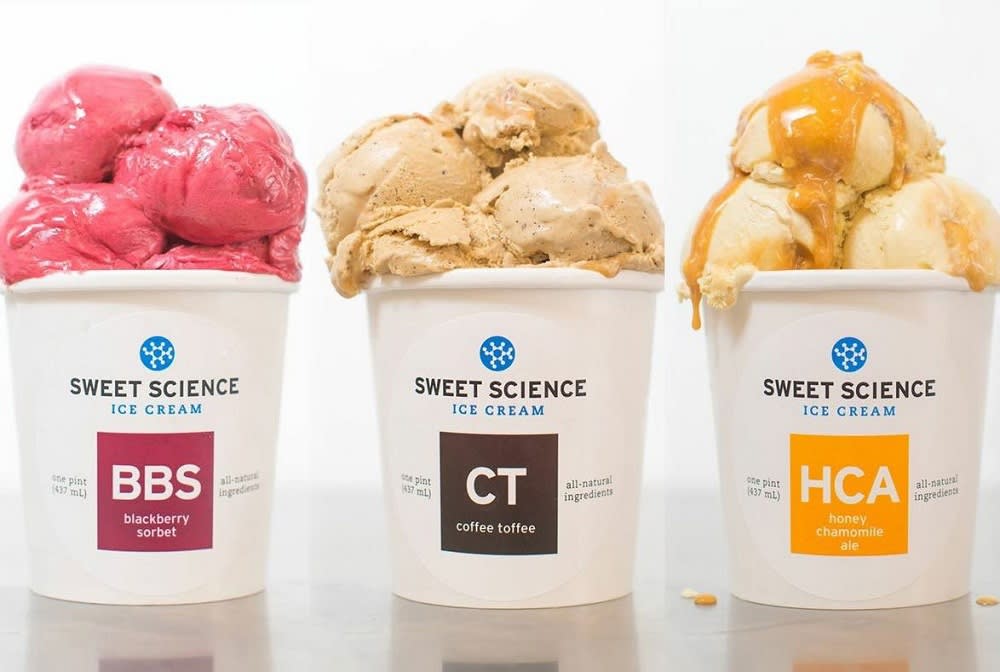 While there are many ways to support a healthy lifestyle in the area, part of any healthy lifestyle is having the occasional indulgence, too. 50th & France has that covered as well. Start your indulgent journey at
Sweet Science Ice Cream
. The team at Sweet Science uses organic ingredients to create some of the most unique (and utterly delicious!) flavor combinations. Treat yourself to Five Watt Coffee, or go for the ultimate treat with Graham Caramel Fudge ice cream. With dozens of flavors to try, you can make this a weekly ritual with the family for years and still have something new to try.
If the thought of all that ice cream gives you a brain freeze, head to 50th Street and visit
Breadsmith
. Not only will you find plenty of sweet treats, but you can also pick up your weekly staples here. Get your supply of gorgeous loaves, hamburger buns, and yummy pumpkin bread. Head a little further down 50th, and you'll find
Wuollet Bakery
. They've been in business for over 75 years and produce some of the most beautiful pastries and tortes around. They are the perfect place to stop when you want to bring something special to your next party.

There are ample opportunities for self-care
If self-care is at the top of your priority list this year, you'll find excellent ways to fulfill your goals at 50th & France. Start by releasing some endorphins at
ALTR
. This unique gym offers 50-minute sessions that will get your whole body moving. It's a combination of high-intensity and strength training. It delivers results, too, whether you are looking to shape and tone or get stronger.
If you need even more wellness support, stop into
Hydrate IV Therapy
's flagship store on France Avenue. They offer custom hydration packages that can restore you after a night out, energize you when you haven't had enough sleep, or help you recover from a massive workout. They also offer a mobile and concierge service, so they can come to your door if you can't go to them.
You can also treat yourself to
The Wow Bar
, where you can get a blowout and style before a big night out. They'll even do your makeup, giving you a gorgeous new look for your next event.

It's home to the annual art fair
The
Edina Art Fair
is one of the top art festivals in the nation, and you'll find it in the 50th & France district. Nearly 300,000 people attend this three-day event every year. The festival has been a showcase for up-and-coming and established artists from around the world for over 50 years.
If you are an artist, this is the place to show off your work and establish yourself in Minnesota's thriving art community. If you are an art lover, this is where you'll find the next piece to add to your collection. You'll find artwork of all mediums, including performance artists, painters, jewelers, and sculptors. It's a wonderful event for the entire family to enjoy and is sure to awe and inspire. No doubt you'll be eager to bring home some beautiful new artwork for your home, too.

The boutique shopping is next-level
If you love filling your life with unique items you can't find in the big box stores, this is the shopping district for you. 50th & France is home to some of the best boutique shopping in Minnesota. Living here means you can spend your days going from store to store to see what's new and finding the perfect pieces to add to your wardrobe and home.


Check out boutique clothing stores like
EVEREVE
and
Dugo
. There are clothing options for the whole family, too, including
Pacifier
for the youngest members of the family and
Billy Reid
for men. There are also bridal boutiques and resale shops for designer goods. With over one hundred unique stores to choose from, you'll have a plethora of options to make your wardrobe as stylishly individual as you are.

It keeps getting better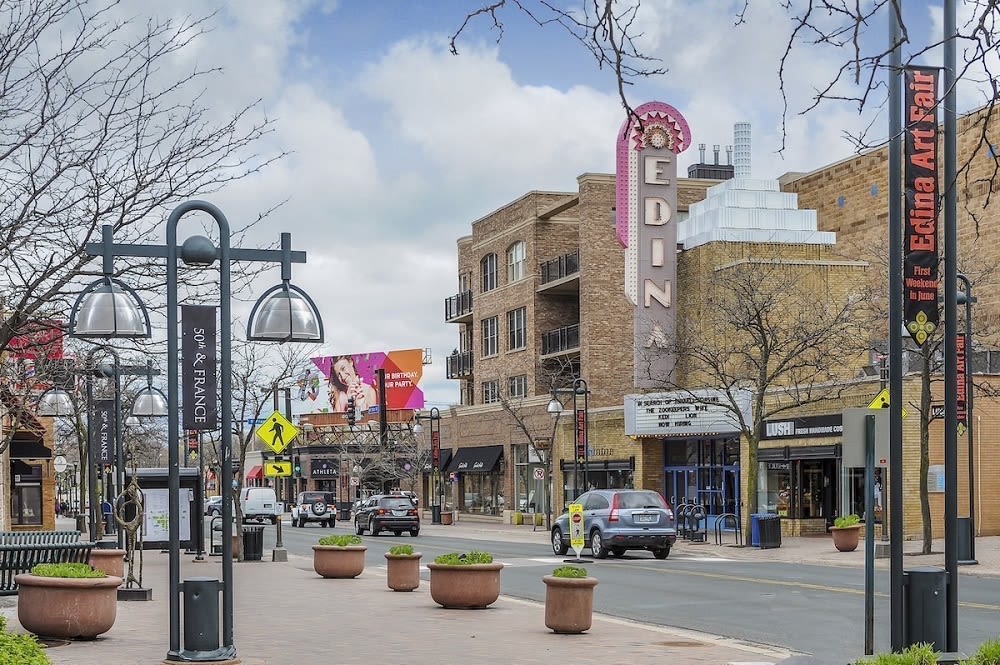 Photo courtesy of Josh Sprague
There is always something new and exciting to look forward to in 50th & France. The area keeps getting better. While there is some retail turnover, stores don't stay empty here for long. Investors and business owners are eager to make their mark on the district. They know that being a part of the scene here can help them establish a successful brand nationally. That's why you'll often find new restaurants, breweries, boutiques, and entertainment venues looking for space here to call their own. And when you live here, you get to be at the center of it all.


Along with many new businesses opening, you'll see plenty of familiar names that have become a mainstay of the district's culture. One of those is the Edina Cinema. While this arthouse movie theater briefly closed, the
historic cinema will be reopening
after getting much-needed restoration work, thanks to its new owners. The cinema will offer new releases and the arthouse films it's known for showing.
Part of living near the district is getting to continually explore all the latest options. No wonder so many people want to call this place home.
Looking for a home in the 50th & France District?
The
Stephanie Chandler Group
can help you find a beautiful luxury home that puts you within walking or easy driving distance of the area. Some of the best neighborhoods in the Twin Cities surround the 50th & France district. Arden Park, White Oaks, and the Country Club areas are all within walking distance, while Linden Hills and Creek Knoll are a short drive away. These neighborhoods offer spacious, thoughtfully-designed homes near some of the best shopping, dining, and entertainment in the state.
If you've been dreaming about
Edina luxury homes
, contact the Stephanie Chandler Group today. As a team of Edina luxury Realtors, we can help you find a perfect family home in a neighborhood that you love. Let's start the search for Edina real estate together today.